Homemade lavender essential oil recipes for hair growth and thickness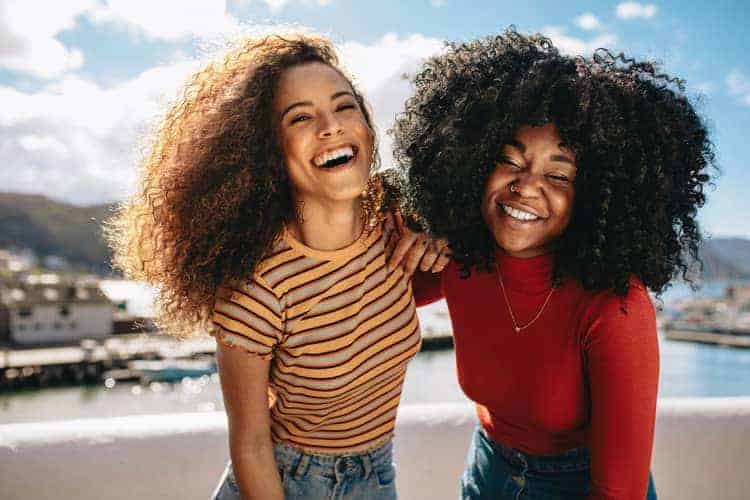 Lavender is part of a unique group of essential oils that are said to aid hair growth. Additionally, research indicates that the hair growth-promoting properties of lavender are beneficial no matter how the oil is used (alone or in a blend).
So, in this article we are going to look at some lavender essential oil recipes for hair growth that you can add to your natural hair care routine, in addition to:
how lavender works for hair growth
how to dilute it correctly.
best brands to use with lavender oil
Note: This post contains affiliate links and I earn a commission (at no additional cost to you) if you use them to make a purchase.
BENEFITS OF LAVENDER ESSENTIAL OIL FOR HAIR
1. Stimulates blood flow to the scalp
In order for hair to grow long and healthy, we need to have proper blood circulation to the scalp. This is essential because the blood carries the nutrients that feed the hair follicles.
And according to one study in particular, simply using lavender oil on its own is enough to boost new hair growth. In that, the researchers compared the effects of the following hair growth remedies on mice:
3% lavender oil
5% lavender oil.
3% minoxidil (the active ingredient in Rogaine).
jojoba oil.
saline solution (salt and water).
After 4 weeks, new hair growth in the mice was as follows:
3% lavender group: 90% hair growth.
5% lavender group: 95% hair growth.
3% minoxidil group: 98% hair growth.
2. It can help alopecia areata
Alopecia areata is an autoimmune condition in which the immune system attacks the hair follicles themselves (source). The most prominent symptom of this condition is hair loss.
Interestingly, a 1998 study showed that a blend of lavender, thyme, cedarwood, and rosemary oils could stimulate hair growth in alopecia patients.
These findings suggest that there might be a synergistic effect between lavender and the other oils that increases hair growth.
3. Supports scalp health
Inflammation or infections of the scalp can negatively affect hair growth and in some cases even contribute to excessive hair loss.
Fortunately, lavender oil has anti-inflammatory and antimicrobial properties that seem to help with an itchy scalp, dandruff, head lice, and other scalp conditions.
As the health of the scalp improves, this will also be reflected in the health of the hair strands that sprout from it.
HOW TO MIX AND USE LAVENDER OIL FOR LONGER HAIR: RECIPES TO TRY AT HOME
To get the best results from lavender oil and reduce the risk of irritation – always dilute it in a carrier oil. Ideally, use a carrier oil that is fluid and easily absorbed.
Oils that are easily absorbed make it easier for more lavender to penetrate the scalp. Listed below are some carrier oils to choose from.
Carrier Oils to Dilute Lavender Oil
Grape seed oil
jojoba oil
sweet almond oil
fractionated coconut oil
apricot kernel oil
olive oil
Argan oil
castor oil (especially Jamaican black castor oil)
This table lists the carrier oils that you can mix with lavender oil for hair.
---
Once you have decided which carrier oil you are going to use, you need to decide which dilution ratio you are going to use
In the recipes below, I have used a 3% dilution. This matches the dilution that has been used in studies related to lavender oil and hair growth.
That being said, keep in mind that lavender oil has a dermal limit of 5%. This dermal boundary is the maximum dilution that is generally considered safe for topical application.
So you can change these recipes to get to 5% if you want. Simply use the chart below to calculate how many drops of lavender you need for your desired dilution.
| Dilution | Amount of lavender oil to carrier oil |
| --- | --- |
| 3% | 27 drops of lavender per ounce of carrier oil. |
| 4% | 36 drops of lavender per ounce of carrier oil. |
| 5% | 45 drops of lavender per ounce of carrier oil. |
This table shows how to dilute lavender oil with carrier oil for hair growth.
---
1. Herbal Growth Oil with Lavender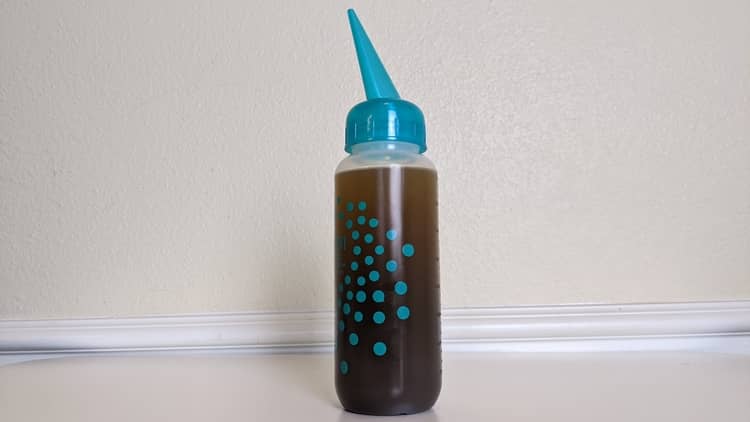 Herbs such as fenugreek, horsetail, and bhringaraj have traditionally been used to increase hair growth and thickness. Combining them with lavender oil can give your hair the extra boost it needs to thrive.
The first step in creating your oil is deciding which herbs to use and which infusion method. If you choose a rapid infusion method, your oil will be ready to use within a day.
Once the infusion is ready, you can add the lavender oil.
For a step-by-step tutorial on how to do this, read this guide on how to infuse herbs into oil for hair growth.
2. Plain Lavender Growth Oil (3% dilution)
Ingredients
1 oz glass bottle (with dropper)
27 drops of lavender essential oil
Any carrier oil of your choice
Instructions
1. Fill the glass bottle almost to the top with base oil.
2. Add the lavender oil.
3. Seal the bottle, then roll it between the palms of your hands. This helps mix the ingredients.
4. When you are ready to use this oil, you have a couple of options:
Use at night as a scalp massage oil: You can do this every other day or every other day. Just apply a few drops to the scalp and massage for a couple of minutes. Do not rinse.
Use once a week as an overnight hot oil treatment or hair mask: Heat the oil gently (to protect essential oils from heat). Apply it to your scalp and strands (especially the ends). Leave it on overnight, then wash and condition as usual the next morning.
3. Mixture of castor oil, lavender and rosemary (3% dilution)
Ingredients
1 oz glass bottle (with dropper)
11 drops of lavender oil
8 drops of rosemary oil
8 drops of peppermint oil
Any carrier oil of your choice
Instructions
Follow the same mix and use steps as with the previous recipe.
BEST LAVENDER OIL FOR HAIR
When shopping for lavender essential oil, you will notice that there are different types listed below.
| type of lavender oil | Characteristics |
| --- | --- |
| French and Greek Lavender | Latin name is lavandula angustifolia. Considered the "true" lavender. Originally from France or Greece. Often labeled as French lavender, Greek lavender, or lavender. |
| fine lavender | Similar properties to lavender but grows at higher altitudes. It has a more pronounced and elegant aroma. |
| lavender spike | Compared to other types of lavender, this one has higher amounts of 1,8-cineole and camphor. The aroma is more medicinal, with hints of eucalyptus. |
| lavender | hybrid of lavandula angustifolia and lavender spike. It has some slightly different therapeutic benefits. |
To keep things simple, stick with French, Greek, or Fine Lavender for your do-it-yourself hair products.
1. Plant Therapy Organic Lavender Oil
GET IT HERE.
2. Eden's Garden French Lavender
GET IT HERE.
3. Aura Cacia Lavender Pure Oil
GET IT HERE.
FREQUENTLY ASKED QUESTIONS ABOUT LAVENDER OIL RECIPES FOR LONG HAIR
What essential oils are good for stimulating hair growth?
Some essential oils that are said to help with hair growth are:
Peppermint oil.
Rosemary oil.
Cedar oil.
Tea tree oil.
thyme oil
Coffee oil.
Sage oil.
Lemongrass oil.
For more details on these oils, read this guide on how to mix essential oils for hair growth.
Which carrier oil is best for hair growth and thickness?
Research suggests that oils rich in linoleic acid may stimulate hair growth. One oil in particular that has been studied is pumpkin seed oil, which appears to block the conversion of testosterone to DHT.
Due to its effect on testosterone conversion, researchers believe that pumpkin seed oil has the potential to help with male pattern baldness (source).
CONCLUSION
Overall, lavender shows promise as a natural remedy for hair loss. I hope the recipes and tips in this post make it easy for you to incorporate it into your hair care routine.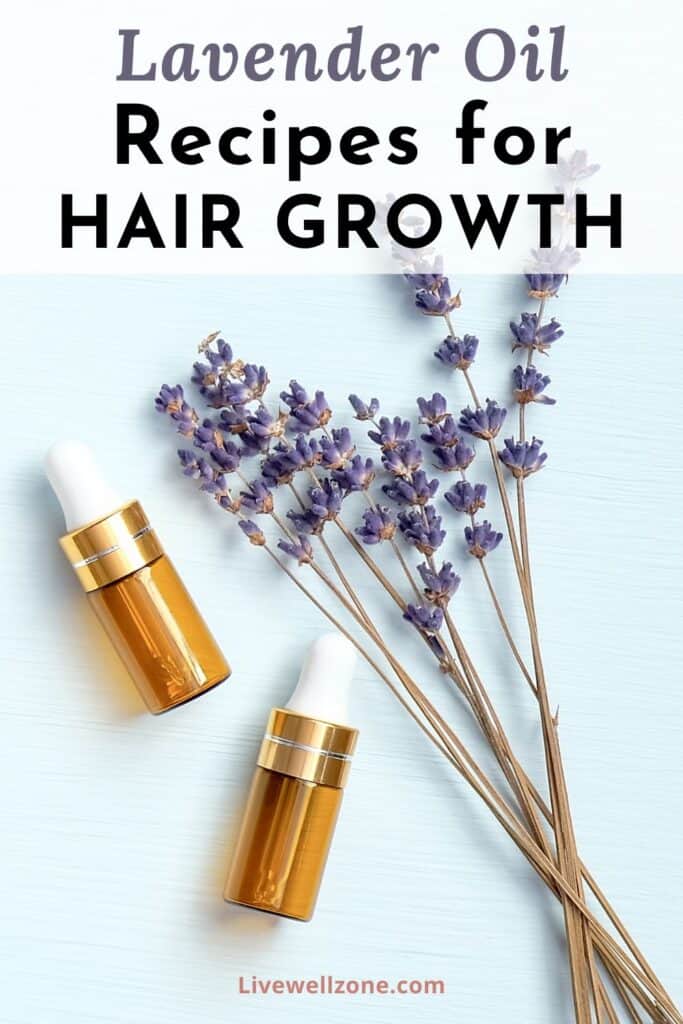 ---
You might also like:
Everything you need to know about castor oil vs rosemary oil for hair growth
4C Lightweight Hair Oils: Reduce breakage and promote growth
A complete guide to tea rinses for hair growth: best ingredients, benefits and how to use
How To Infuse Herbs In Oil For Hair Growth – Best Herbs And Oils, Fastest Method And DIY Recipe
What to mix with shea butter for skin and hair: tips and recipes